The challenge
I was commissioned to design a logo for Angkor Treasures, a retail business that sells Cambodian scarves. Initially, the shop operated as a Facebook page with the goal of becoming an e-commerce website. I gathered insight from customer's shopping experiences and went to work on designing a website as a personal project.
My Process
My first area of focus was the customer. After I gained a better understanding of who the shoppers are and why they're shopping, I created a user persona. Ideally, I would have liked to create multiple personas. However, the business was new and I only had a small group of customers to learn from. One user persona was sufficient for the primary focus of this project. I referred to it as I developed a solution for a smoother checkout process.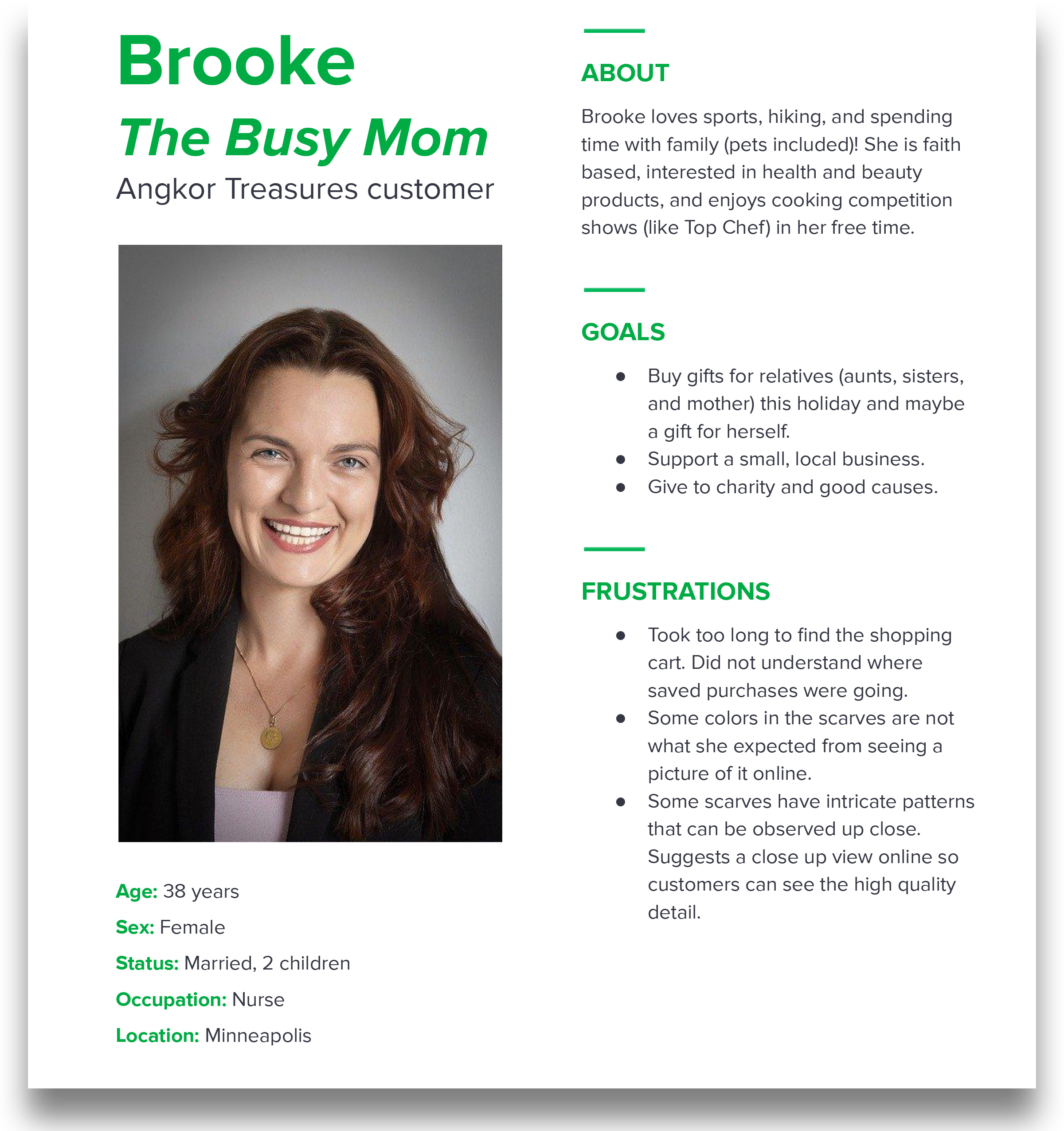 Next, I observed and gathered feedback from a customer making a purchase. I created a journey map to identify areas that could be improved in the online shopping experience.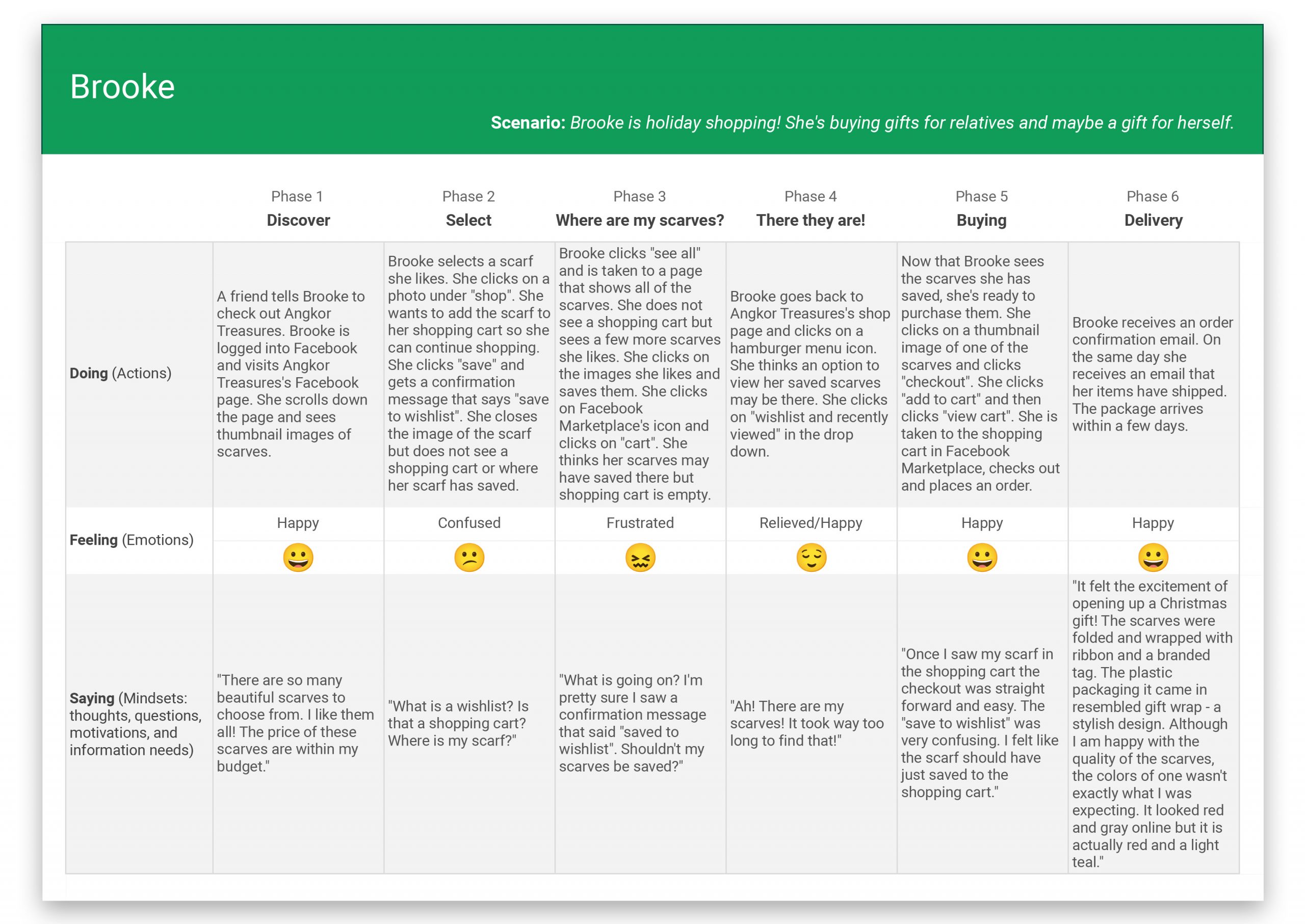 The biggest opportunity I saw was that a website would bring the business an increase in new and unique customers. As a Facebook page, the business could only reach customers that had a Facebook account or were willing to create one.
Many customers were confused by the checkout process and were unclear on how to add a product to their shopping cart. I reviewed other retailer websites for ideas on how to make the process easier and quicker.
A customer commented that a scarf they bought was not in the color they had expected upon receiving it. I recommended product descriptions that included the color of scarves.
One customer was very impressed by the high quality and intricate pattern of a scarf. They said the images of the scarves online didn't do the actual product any justice. I suggested adding in a functionality for zooming into an image so that the user could view details of scarf.
Project Highlights
User flow chart with wireframes: I outlined a new checkout process.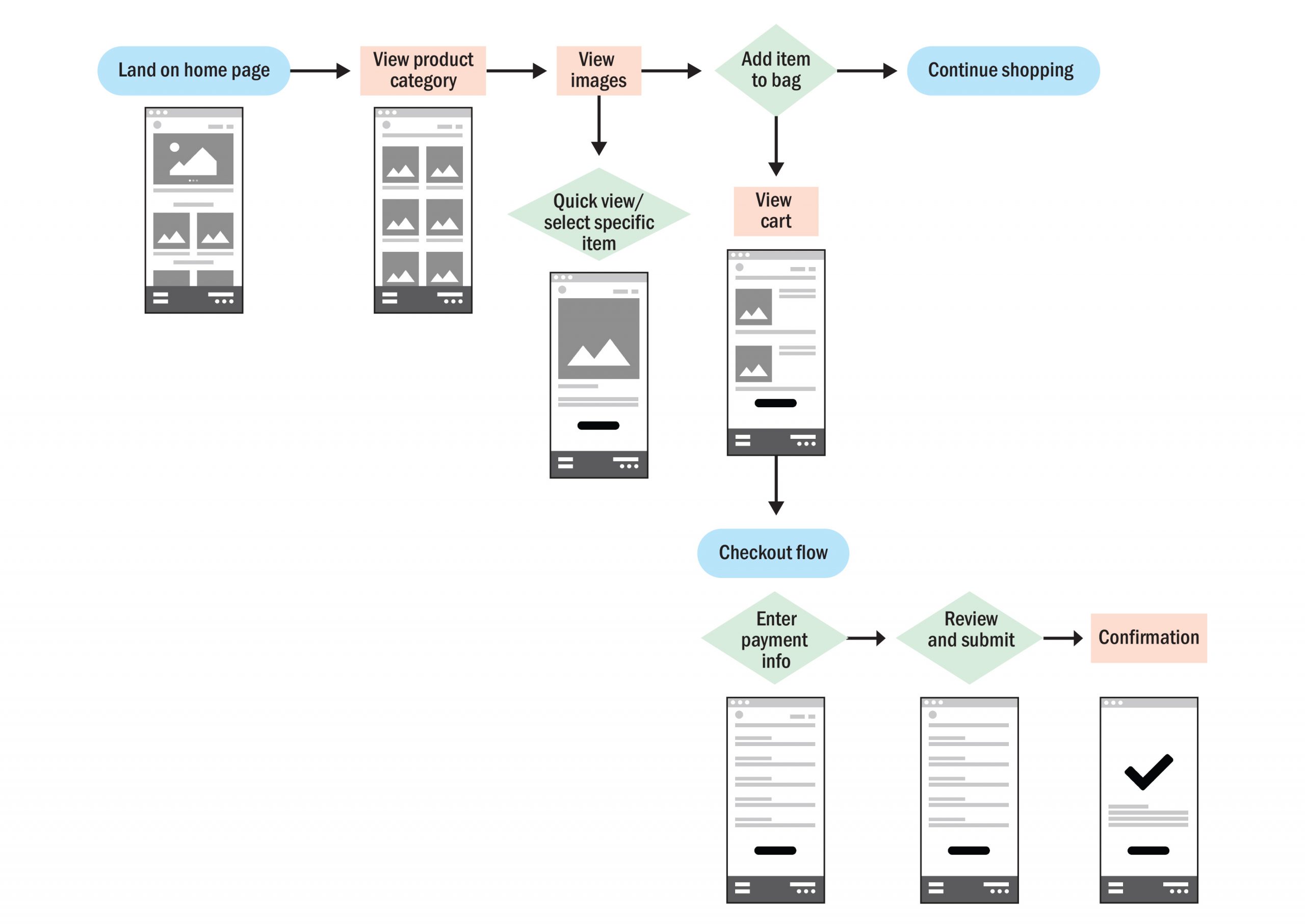 High-fidelity user interface design: I designed main screens, and established typography and color scheme. I looked at other retail websites, such as Express.com and us.loisjeanstore.com for inspiration. Angkor Treasures has unique story that I thought was important to share on an About Us page.
High-fidelity prototype: I created an interactive prototype using Adobe XD to simulate how a customer would shop and make a purchase on the new website.