The Challenge
Exhibitor Media Group, a leading resource in trade show and corporate event marketing, needed a new and improved web presence. Analytics revealed that unique visitors were at less than 10%. Research also exposed mass confusion among the audience. People that were subscribed to EXHIBITOR magazine were unaware that Exhibitor Media Group also produces EXHIBITORLIVE, an annual conference and exhibition. People that attended EXHIBITORLIVE were unknowing of  its association with EXHIBITOR magazine and opportunities to take sessions online through EXHIBITOR eTrak. At the time of the website launch, Exhibitor would also be promoting its new digital magazine. It was time to increase website traffic, inform the audience of the full scope of learning events and services offered by Exhibitor, promote a digital magazine, and implement ad spaces that would drive more revenue.
Exhibitor's old website lacked hierarchy of content and organized structure of navigation.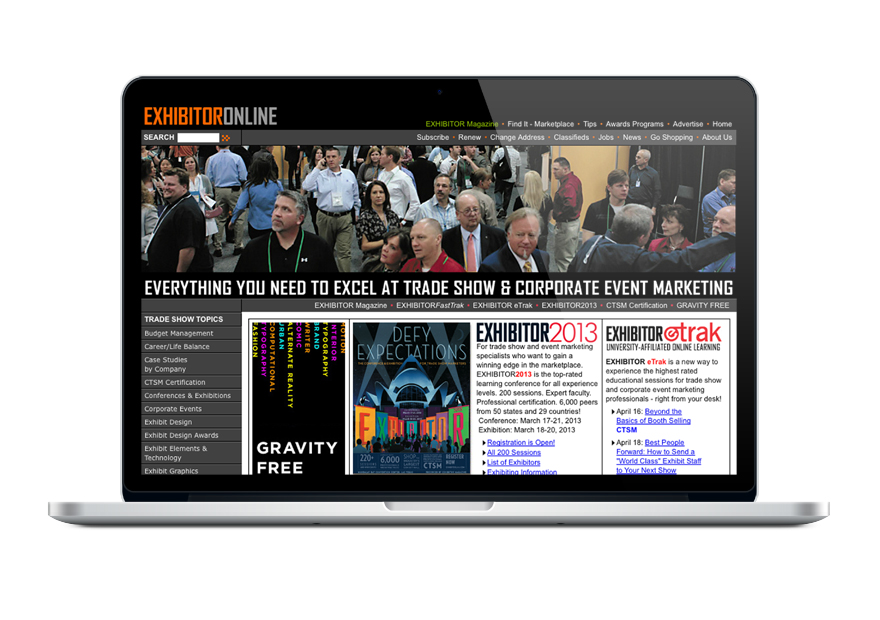 My Process
My role was to lead the visual design of Exhibitor's new website. My work was a collaborative effort among company leadership, advertising/sales, marketing, editorial, web and design team. We also worked with an external consultant that was responsible for wireframes, testing and identifying analytics. Once a wireframe was established by the consultant, I began to design pages of the website section by section. I asked questions during team meetings to gain an understanding of the company's goals. When I felt I had enough information, I got started with pencil and paper. I used post-it notes to jot down ideas for page content. The post-it notes represented images, text, and buttons. I moved them around my cubicle wall until I made a composition worth testing out. My arrangement of post-it notes became a pencil sketch. During this time, I sought the art director and web developer for advice. Then I worked in Photoshop to turn my sketch into a mockup or clickable PDF to present to the team.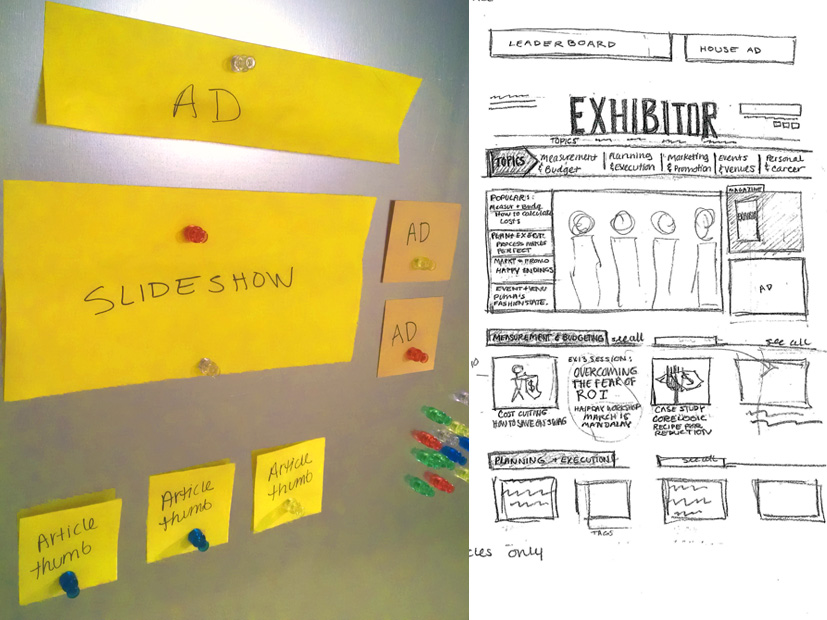 The Result
EXHIBITORonline.com saw web traffic more than double in less than a year. In 2014, EXHIBITORonline.com was awarded a gold award in the Best Website Redesign category by the American Society of Business Publication Editors.